The Ultimate Fighting Championship returns to the O2 Arena in London on Saturday for UFC 120. British favorite Michael Bisping squares off with Yoshihiro Akiyama in the main event, while Dan Hardy and Carlos Condit fight it out for the chance to move up the welterweight ranks.
MMAWeekly.com is live cageside bringing you full blow-by-blow coverage. The first preliminary bout is scheduled to begin at approximately 12:20 p.m. ET, with the main card bouts beginning at 3:00 p.m. ET.
Please refresh your browser frequently for the latest round-by-round action…
UFC 120 PLAY-BY-PLAY:
MICHAEL BISPING VS. YOSHIHIRO AKIYAMA
R1 – Bisping works the jab immediately but Akiyama lands a big punch and the flurries. Bisping settles and fires out his jab. They trade kicks but Akiyama is head hunting and lands another big shot. Bisping shots and breaks with an upper cut and then scores a big takedown. Akiyama gets straight up and they scramble from a body kick. Bisping unleashes a combo as Akiyama complains of a low blow.  Bisping lands two solid combinations but the Japanese fighter shakes it off. Bisping fakes the single leg again and they exchange single strikes. Akiyama misses with a spinning back fist and they go back to trading until the bell.
R2 – Both jab before Akiyama loads up with a combo. Bisping kicks to the body but Akiyama catches it. The pace is furious and they trade shots with Bisping landing a knee in the clinch. Bisping misses a head kick but lands a solid left. Bisping lands another solid punch but Akiyama fires back. Bisping continues to throw the overhand and then a spinning back fist of his own. Bisping appears to be bossing the action on the feet but Akiyama keeps on marching forward throwing big punches. Bisping scores with a side kick and they trade big hooks. Akiyama has Bisping rocked as the bell sounds.
R3 – They bow to each other and go right back to swinging punches. Bisping lands a good kick and they trade punches. Akiyama marches forward and eats a big combo that has him wobbled on his feet. Bisping has his range and lands two huge punches but Akiyama won't go down.  Akiyama takes a shot to the groin and drops to the mat and lays there prone, in agony. The doctor is called in and Akiyama gradually gets to his feet and takes the full five minutes to recover. The fight restarts. Bisping lands a jab but Akiyama bulls forward with wild shots, catching another kick and looking for the takedown. Bisping's jab is working well and he scores with another knee in the clinch before stumbling Akiyama with a punch. Bisping unloads again and seems to landing at will but Akiyama stays strong. Akiyama is eating three for every one he lands but keeps stalking Bisping right up to the bell.
Michael Bisping def. Yoshihiro Akiyama via Unanimous
Decision (30-27, 30-27, 30-27)
DAN HARDY VS CARLOS CONDIT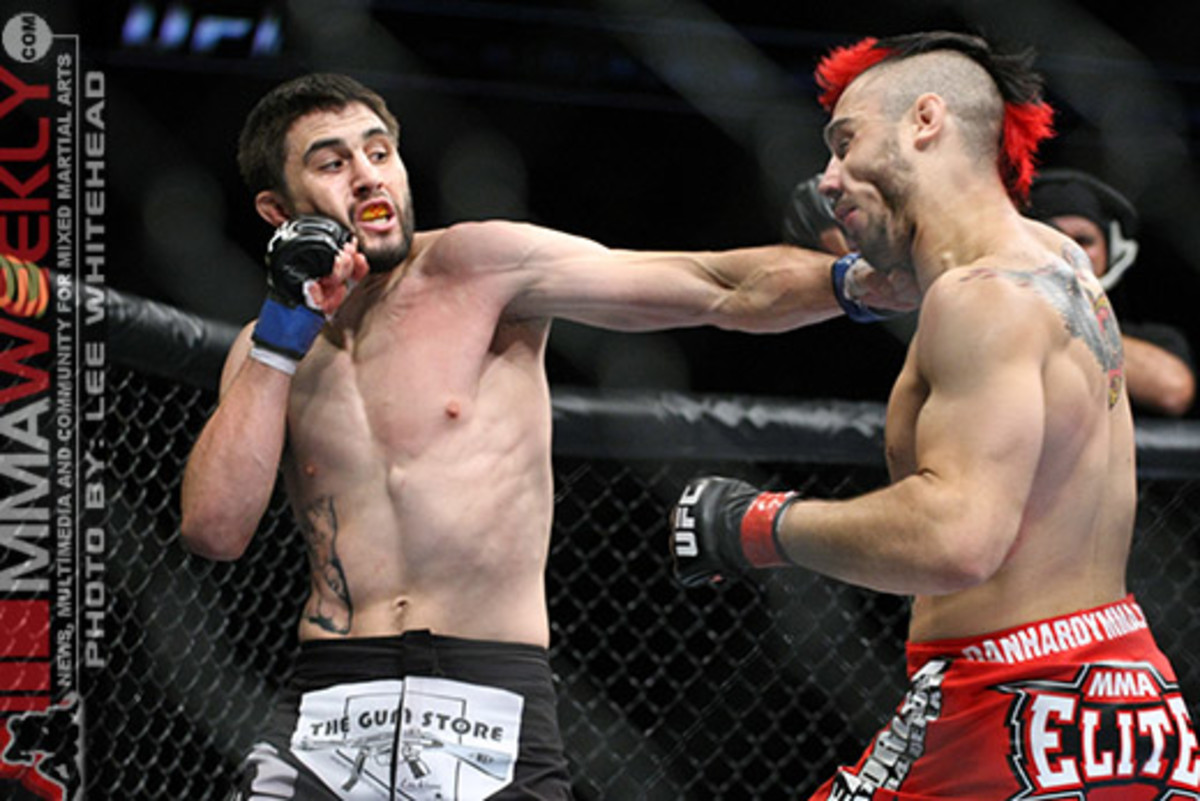 R1 – Condit opens with a leg kick and then another.  Condit lands two more before Hardy replies with his own. Hardy lands a head kick and then a big lead left hook. Both miss with kicks and circle each other. They trade punches before Hardy lands a big leg kick. Condit returns the favour before unloading a head kick. They exchange shots and Condit lands a spinning elbow. Condit scores with a good flurry which ups the tempo. Both unleash power shots. Condit is throwing more combos to Hardy's single shots. They both connect with big hooks. Hardy goes down and Condit drops big bombs to finish the Brit and score the KO.
Carlos Condit def. Dan Hardy via KO 4:27 R1
JOHN HATHAWAY VS MIKE PLYE
R1 – They come out and circle, both pawing with the jab. Pyle shoots and gets the takedown but Hathaway immediately starts to walk up the cage. Hathaway gets up and reverses the takedown against the cage and then stands up. Hathaway counters Plye's shoot but then eats a knee. Hathaway is throwing more on the feet but Pyle counters well, landing a solid punch that stumbles the Brit. They clinch briefly and then circle each other again. Hathaway lands two stiff jabs but neither fighter has the range yet. They clinch and Plye scores the takedown with ten seconds to go.
R2 – Hathaway throws a combo immediately and they go back to circling, trading single shots. Hathaway has the forward motion but Pyle clinches and looks for the takedown. Hathaway stuffs the shot and escapes before landing a left – right combo. Plye scores with a front kick but Hathaway answers with a flurry forcing the American to run away. They clinch again and from the scramble Plye scores an excellent throw takedown. Plye transitions to side control and then steps over to the reverse triangle. Hathaway is caught and eating punches and elbows with a minute to go. Plye is dropping elbows but Hathaway sees it to the bell.
R3 – The circle before Hathaway lands a big body kick. The Brit shoots but Plye escapes. Hathaway lands a solid overhand and they clinch. Plye drops for the single leg and trips his opponent to the mat but Hathaway stands up straight away. The fighters scramble and Pyle gets the double leg but ends up eating shots. The fight goes to the mat in Hathaway's guard who throws  some elbows before scrabbling to escape. Pyle has top control in half guard but can't land any shots. Hathaway scrambles again but he can't shake Pyle as the American lands punches and elbows until the bell.
Mike Pyle def. John Hathaway via Unanimous Decision (30-27, 30-27, 30-27)
CHEICK KONGO VS TRAVIS BROWNE
R1 – Browne comes out swinging but Kongo stays light on his feet and evades well. Kongo lands a solid leg kick and then another. Browne steps in and swings but misses. Both are wary of the other  as they circle. Browne pushes forward but lands nothing. Browne scores with two leg kicks and Kongo chases him but eats a big punch that wobbles him. Browne follows it up and catches Kongo again. They clinch and Browne lands a few solid knees. Kongo circles out and away. Browne lands a big body punch and backs Kongo up. Browne misses with some wild haymakers and Kongo clinches him. Browne escapes and attacks with a superman punch and a head kick before Kongo bulrushes him at the bell.
R2 – Kongo walks forward but misses with a leg kick. Kongo lands a good combo and then ctaches Browne with an illegal knee to the groin in the clinch. They restart and Browne throws a combo which Kongo counters well. Kongo rushes in and clinches again looking for the plumb. Browne pushes him to the mat and they reset.  Browne misses a punch and covers up as Kongo unloads with a flurry of strikes before they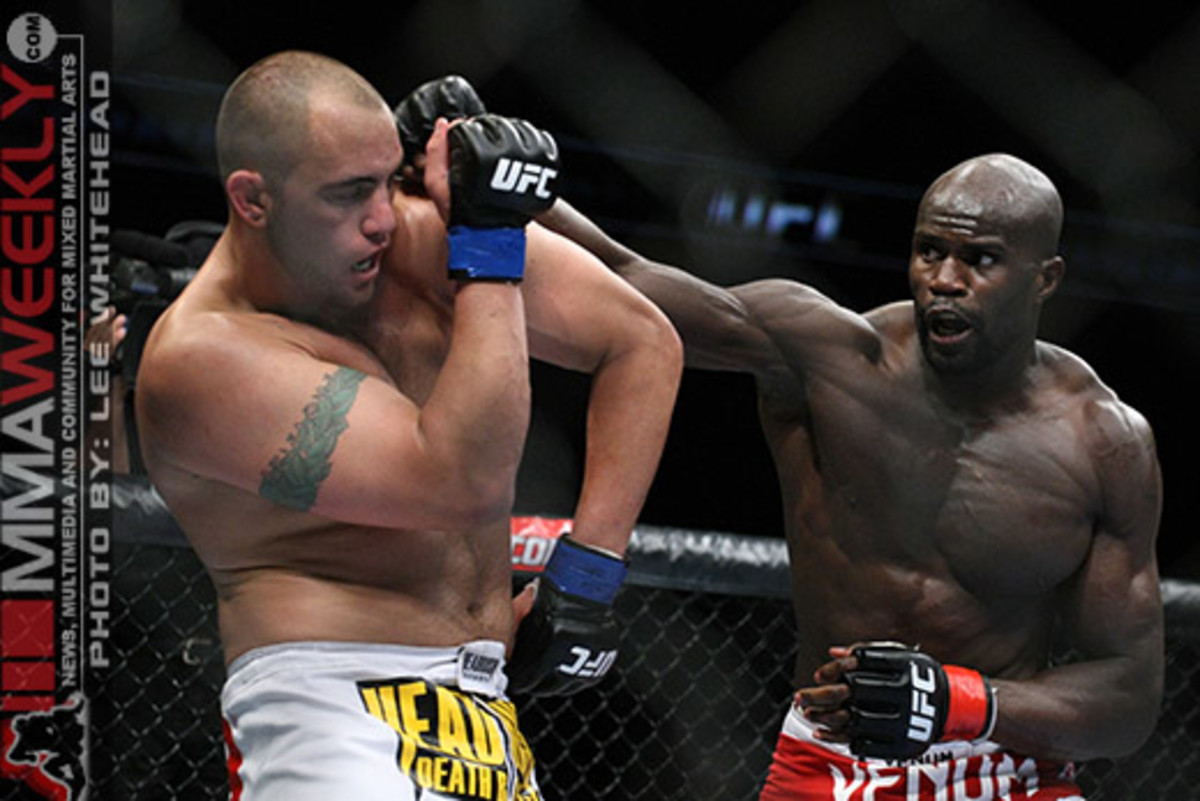 clinch again. Kongo lands some solid knees against the cage but not enough as the ref breaks them up. Browne goes after Kongo and they end up in the clinch again with Kongo in control and chopping away with knees to his opponent's legs. The ref breaks them up again and Browne immediately swings and misses before clinching Kongo and taking him down at the bell.
R3 – Browne shoots in straight away and they clinch on the cage as the American chops away with knees. The ref breaks them up and takes a point away from Kongo for grabbing the shorts. Kongo comes back more aggressive and shoots but Browne stuffs it and they clinch again. They break and Kongo kicks the leg. Browne is breathing hard and Kongo stalks the American across the cage and they grapple against the cage exchanging knees. The ref restarts the action but both look tired. They trade briefly but both miss with most of their shots. Browne lands a solid right hand and Kongo immediately ties him up on the cage. Browne scores the takedown at the bell again but the crowd aren't impressed and boo the fighters.
Travis Browne draws Cheick Kongo (28-28, 28-28, 28-28)
JAMES WILKS VS.CLAUDE PATRICK
R1 – Wilks fires out the jab and Patrick attacks the leg. Both fighters circle the other, feigning. Patrick rushes in and clinches Wilks against the fence before scoring the takedown. Wilks immediately attacks the arm but Patrick escapes and then drops back into his opponent's guard. Patrick stands up and kicks the legs before getting side control and then mount. Patrick goes back to side control and then stands again and drops bombs. Wilks recovers guard and locks Patrick down. Patrick stands again and Wilks up kicks forcing the Canadian to drop back into his guard.  Patrick lands some clean punches and gets mount as the bell sounds.
R2 – Wilks opens with a leg kick and they go back to the clinch with Patrick in control. Wilks lands some knees and turns his opponent to the cage as both struggle for dominance. They break and Patrick wades in with a big shot. Patrick scores the take down but the action is slow. Wilks threatens from his back but Patrick stays strong and looks to pass. Both men are shutting the other down on the ground. Wilks looks for the omoplata and they scramble but end up back in the Brit's half guard.
R3 – Wilks fires out the jab and a head kick. Patrick clinches and the grapple on the cage. Patrick score the take down and ends up in Wilks' guard. They scramble and Wilks looks to attack the leg but the crowd is restless as the action slows again. Patrick passes to side control but Wilks gets back to guard. Patrick postures and drops punches but Wilks is defending well.
Claude Patrick def. James Wilks via Unanimous Decision R3 (30-27, 30-27, 30-27)
– ALEXANDER GUSTAFSSON VS. CYRILLE DIABATE
R1 – Gustaffsson starts with a leg kick and then a flurry that misses. Diabate stays calm and counters with two sharp kicks. Gustaffsson throws a big combo and drops Diabate to the mat and scrambles to side control. Diabate is trying to escape but Gustaffsson has control. Diabate gets to his feet and eats a knee to the body. They trade and Gustaffsso shoots in and clinches his opponent against the cage. As they break Gustaffsson drops Diabate again but the Frenchman recovers. They both exchange huge shots on the feet until Gustaffsson takes the fight to the mat and secures side control. Diabate tries to escape but Gustaffsson maintains control.
R2 – Diabate kicks the leg and then flurries with punches. Gustaffsson clinches and scores a big slam takedown straight into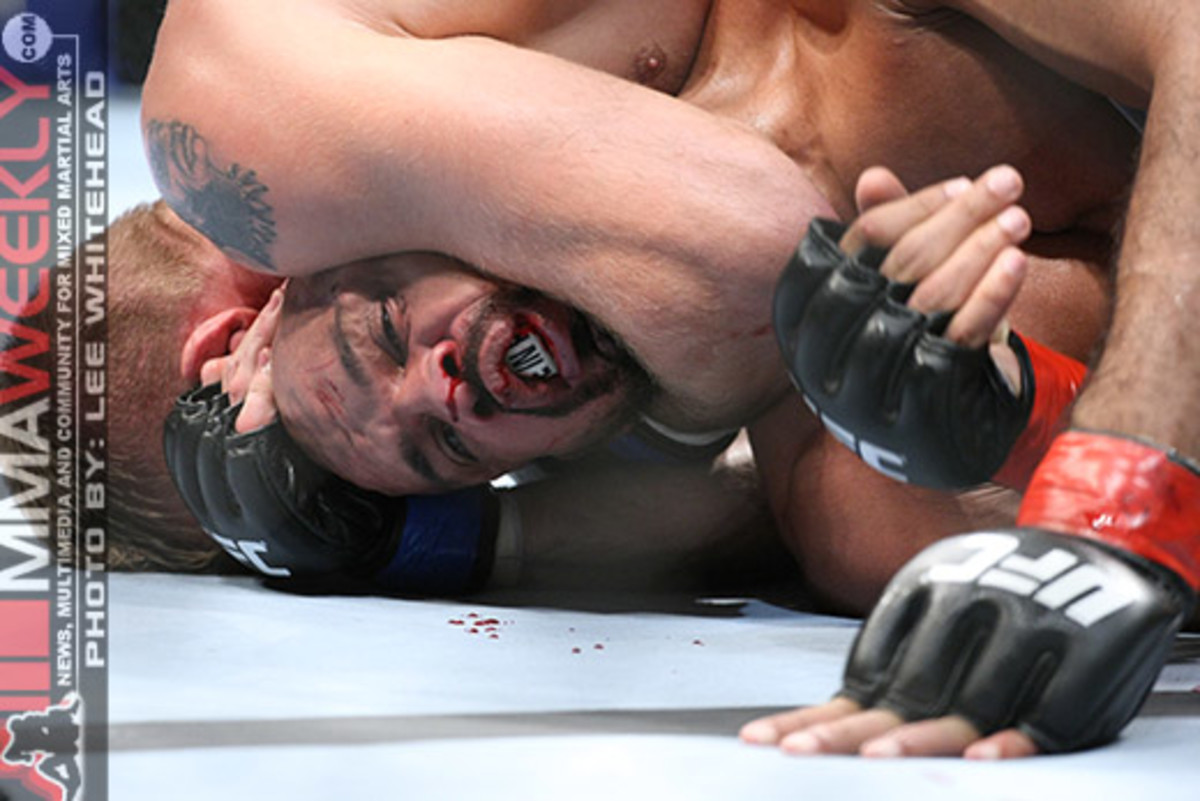 side control. As Diabate scrambles Gustaffsson punches the head. Diabate tries to go out the back door but ends up in mount. Gustaffsson then takes the back and looks for the choke before dropping punches and then going back to the choke. Diabate escapes only for Gustaffsson to drop more punches and then sink in the rear naked choke.
Alexander Gustafsson def. Cyrille Diabate via RNC 2:41 R2
– ROB BROUGHTON VS. VINICIUS QUIEROZ
R1 – Broughton throws first and both immediately start trading. Quieroz lands a big leg kick and Broughton clinches. Quieroz trips his opponent to the floor and ends up in hald guard and begins to drop bombs. Broughton gets back to guard and looks to sweep. Quieroz postures up and punches the body. Broughton scrambles and gives up his back. Quieroz gets in the hooks but Broughton escape to the feet where they exchange punches.  Quieroz is beating the Brit to the punch but Broughton bulls forward. Quieroz takes his opponent down, straight into half guard but Broughton attacks looking for the heel hook. Quieroz scambles and gets dominant position at the end of the round.
R2 – Broughton attacks early but Quieroz counters and jumps on the Brit's back. They scramble and Broughton attacks again with punches as both throw big bombs. Quieroz trips Broughton to the mat again but the Brit is doing all the work with heel strikes from his back. Ref restarts the action and they go back to swinging. Broughton begins to get the upper hand but Quieroz clinches and gets the trip takedown again. Broughton has Quieroz locked down and forces the stand up. Broughton again lands a big flurry and Quieroz takes him down.
R3 – Both fighters touch gloves and go back to trading big shots on the feet. Broughton stuffs the shoot and works for the guillotine. Quieroz secapes but Broughton goes to the kimura and then back to the neck. Quieroz escapes but Broughton has top control and begins to throw bombs. The Brazilian gives up his back and Broughton sinks in the rear naked choke for the win.
-Rob Broughton def. Vinicius Quieroz by submission (rear naked choke) at 1:43, R3
PAUL SASS VS. MARK HOLST
R1 – Holtz feigning and moving forward catches Sass who quickly pulls guard and
threatens with a triangle. Fighters get back up and Sass throws a flying knee. Holtz takes the fight back to the mat and ends up in guard. Sass looks for the omoplata and then for a heel hook as Holtz scrambles. Holtz gets back to his feet. Sass throws a spinning kick but is stuffed against the fence. Sass immediately attacks for a heel hook. Holtz escapes to his feet but Sass shoots in and pulls guard again. Not much happening but suddenly Sass sinks in the triangle with thirty seconds to go and Holtz taps.
Sass def Holtz via triangle 1:45 R1
-Paul Sass def. Mark Holst by submission (triangle choke) at 4:45, R1
SPENCER FISHER VS. CURT WARBURTON
R1 – Warbuton lands a solid leg kick to start, Fisher feigning on the feet. Warbuton lands a big body kick and then a leg kick. Both fighters attacking the legs with big strikes. Fisher wades forward and they clinch against the cage. Warbuton scores the takedown from the body lock and attacks the neck.. Fisher escapes and pulls guard. Warbuton lands some ground and pound and elbows. Both attacking from the ground with elbows.
R2 – Fisher pushes forward and clinches but Warbuton is the stronger in the scramble. Both fighters are landing knees but Warbuton has better control. Ref breaks up the fight, Fisher immediately lands a big spinning back kick. Back to the clinch and Warbuton lands an illegal knee. Fisher resumes quickly and pushes forward again. Back to the clinch game as both fighters throw knees. Warbuton breaks and lands a solid punch. Fisher catches a body kick and drops Warbuton who immediately attacks the leg. Fisher defends and stands out. Fisher drops an axe kick and both end up tangled looking for the heel hook.
R3 – Both fighters looked tired but Fisher continues to move forward and land kicks. Warbuton attacks the lead leg but Fisher lands a big flurry. Warbuton shakes it off and they clinch again. Both land knees as they fight for control. Ref breaks them up and Warbuton goes back to kicking the leg. Fisher clinches and tries to throw but they end up against the cage in the clinch again throwing knees to the body. Ref restarts them again  and after a brief trade they go back to the clinch. Fisher takes another low blow with a minute to go. Fisher lands a big shot and a body kick. Warbuton goes for the single leg and Fisher scoots round to look for the rear naked choke. Warbuton escapes but Fisher scrambles to take the back mount at the end of the round.
-Spencer Fisher def. Curt Warburton by unanimous decision
-Fabio Maldonado def. James McSweeney by TKO at :48 seconds, R3
UFC 120 RESULTS:
Main Bouts (On Spike TV):
-Michael Bisping def. Yoshihiro Akiyama via Unanimous
Decision (30-27, 30-27, 30-27)
-Carlos Condit def. Dan Hardy via KO 4:27 R1
-Mike Pyle def. John Hathaway via Unanimous Decision (30-27, 30-27, 30-27)
-Travis Browne draws Cheick Kongo (28-28, 28-28, 28-28)
-Claude Patrick def. James Wilks via Unanimous Decision R3 (30-27, 30-27, 30-27)
Preliminary Bouts (Non-Televised):
– Alexander Gustafsson def. Cyrille Diabate via RNC 2:41 R2
-Rob Broughton def. Vinicius Quieroz by submission (rear naked choke) at 1:43, R3
-Paul Sass def. Mark Holst by submission (triangle choke) at 4:45, R1
-Spencer Fisher def. Curt Warburton by unanimous decision
-Fabio Maldonado def. James McSweeney by TKO at :48 seconds, R3