Hey, it's WrestleMania! Brock Lesnar signed a new three-year contract! Vince McMahon loves Roman Reigns! There's a huge stage that makes New Japan set designers nod in approval! It's outdoors! In the sun! Sting at Mania! The Undertaker at 50! All right, hey, let's get into it!
WrestleMania 31 Pre-Show
Fatal 4-Way Tag Team Title Match: Tyson Kidd and Cesaro vs. The New Day vs. Los Matadores vs. The Usos
Natalya started WrestleMania 31 off right.
The New Day changed their colors from sky blue to DX green, and boy did it do nothing for their crowd reaction. This was the tag-team scramble you expected. Cesaro and Kidd retain after some legal-man nonsense.
Andre the Giant Memorial Battle Royal
The WWE's midcard has been a mess all year, but they've nailed the Mizdow/Miz story. And would you believe it? They didn't try to swerve anybody, went with the expected/logical conclusion, and got a big pop!
#WrestleMania pic.twitter.com/xGUyHfZ5CJ

— LARIATOOOOO!!! (@SenorLARIATO) March 29, 2015
Big Show wound up tossing Mizdow over for the finish, giving him his first battle-royal win and the giant Giant trophy. In the biggest surprise of the night, the Giant trophy didn't end up in several pieces on the floor.
WrestleMania 31 Proper
Ladder Match for Intercontinental Title: Daniel Bryan vs. Bad News Barrett vs. R-Truth vs. Dean Ambrose vs. Luke Harper vs. Dolph Ziggler vs. Stardust
Daniel Bryan sat out most of the year recovering from a neck injury. So, what better to bring him back than in a ladder match!? Fortunately for Bryan, Dean Ambrose stepped up to take the "it's only a neck, right?" bump.
Harper powerbombs Ambrose over the ropes, through a ladder! #WrestleMania #CZDUB!! pic.twitter.com/C1WJBm1N1A

— LARIATOOOOO!!! (@SenorLARIATO) March 29, 2015
Bryan wins because they're trying to make the Intercontinental Title prestigious. Like, for real this time, guys. They're so serious they brought out Ric Flair to do this:
#WrestleMania pic.twitter.com/e8Ur5Fmepw
— LARIATOOOOO!!! (@SenorLARIATO) March 30, 2015
Randy Orton vs. Seth Rollins
My girlfriend thinks Randy Orton has the best thighs in the business, and she was not disappointed to see someone leak Seth's personal photos. Let's just say this one was win-win for her.
The curbstomp-to-RKO may be the most obvious awesome spot in WrestleMania history, but, holy sh*t, did these two deliver.
HOLY SHIT!!! #WrestleMania pic.twitter.com/FX32m1pFzT

— LARIATOOOOO!!! (@SenorLARIATO) March 29, 2015
Rollins winds up staring at the San Francisco sky, but something tells me that's not the last we see of him tonight.
Sting vs. Triple H
THE VIGILANTE STING came with his strongest Sgt. Pepper game:
#WrestleMania pic.twitter.com/D4FoJXtMYD
— LARIATOOOOO!!! (@SenorLARIATO) March 29, 2015
Triple H was not to be outdone, becoming the living embodiment of corporate synergy:
Bionic HHH #WrestleMania pic.twitter.com/C8CXxHYzi1

— LARIATOOOOO!!! (@SenorLARIATO) March 30, 2015
But hey, at least it's a step up from Robocop for the Stinger: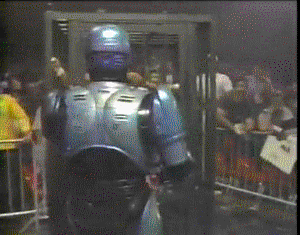 This got real weird, real quick. First, Degeneration X (Road Dogg, Billy Gunn, and X-Pac) come out for Hunter. Then the nWo comes out to support Sting. Never mind the fact that the nWo and Sting feuded and Hall and Nash were just chumming it up and the Hall of Fame ceremony last night. Then Shawn Michaels comes out to superkick Sting, and hey, at least that makes some sense.
Triple H gets the win because this is still Vince McMahon's WWE. Triple H and Sting do the respect handshake, which … OK. I guess this was the perfect tribute to WCW when WCW was at its worst.
AJ Lee and Paige vs. The Bella Twins
When talking about A.J. Lee and Paige's relationship on the pre-show, Booker T said, "All women hate each other." And, you know, in the WWE UNIVERSE that might just be true because six months ago Nikki told her sister Brie that she wished Brie had died in the womb.
Anyway, AJ and Paige get the win. This was fine.
United States Title Match: Rusev vs. John Cena
This guy Rusev knows how to make an entrance:
AHAHA WHAT A G #WrestleMania pic.twitter.com/W94iMK37rR
— WrestlinGifs (@WrestlinGifs) March 30, 2015
Cena has no tank, which is probably why an audible portion of the crowd went with the "JOHN CENA SUCKS" singalong to his theme, despite the two-minute hype video about him FIGHTING FOR AMERICA. MMA fighter Nick Newell summing it up perfectly:
John Cena is an American hero. This country was built on the backs of hard working, jean short wearing men #WrestleMania

— Nick Newell (@NotoriousNewell) March 30, 2015
Things that happened during this match: "A let's go Lana!" chant and my girlfriend insisting that she can see evidence of Cena going bald.
Cena wins with the AA. He has saved America and the United States Title.
John Cena wins the US title. AMERICA! AMERICA! AMERICA! AMERICA! AMERICA! AMERICA! AMERICA! AMERICA! AMERICA! #WrestleMania

— MMA Hot Sauce Blog (@MMAHotSauce) March 30, 2015
Triple H and Stephanie McMahon cut a promo to kill time while the sun sets. And oh sh*t, here is the Rock! What is he doing here?! He was in New York doing Saturday Night Live last night! This is impossible! And that lead to this:
RONDA!!! #WrestleMania pic.twitter.com/NohvWAutv6

— LARIATOOOOO!!! (@SenorLARIATO) March 30, 2015
#WrestleMania pic.twitter.com/saQtkf38zb

— LARIATOOOOO!!! (@SenorLARIATO) March 30, 2015
Undertaker vs. Bray Wyatt
A bunch of nerds on Twitter are upset because the Undertaker is walking in at twilight and it isn't dark enough. Whatever. I always liked Undertaker fine, but never got INTO him, and really don't care for the supernatural stuff. But anyway.
Ten minutes in, Undertaker hits a Tombstone, and he's somehow surprised that it doesn't lead to a finish despite the fact that a single Tombstone hasn't finished anyone at Wrestlemania in at least a decade. This happened, though, which was pretty cool:
#WrestleMania pic.twitter.com/GOBSOGyPix

— LARIATOOOOO!!! (@SenorLARIATO) March 30, 2015
Taker ends up escaping a second Sister Abigail and hitting a second Tombstone for the win.
World Heavyweight Championship Match: Brock Lesnar vs. Roman Reigns
Reigns enters, and it's not good:
Reigns' entrance so far is boos -> indifference. #WrestleMania

— David Bixenspan (@davidbix) March 30, 2015
But this is probably the best description of the Roman Reigns Experience:
everything about roman reigns' whole style just screams "middle schooler buying his own cologne"
— Jeb Lund (@Mobute) March 30, 2015
This starts off with a shooty-looking brawl and Brock's already bleeding. Quick German and F5 to end the sequence. This largely progresses like a lot of big Lesnar matches this year: Lesnar suplexes and suplexes and suplexes some more. He hits this …
no.4 #WrestleMania pic.twitter.com/uFECmycbRr

— LARIATOOOOO!!! (@SenorLARIATO) March 30, 2015
… and tells Reigns, "Suplex City, b*tch."
Lesnar continues squashing, but after Reigns kicks out of a couple F5s, he brings Reigns out to the floor. Reigns winds up shoving Lesnar into the ring post, and he's bleeding. Hard.
Back in the ring, Reigns hits a trio of Superman punches and a couple of spears, but Lesnar kicks out. Then …
#WrestleMania pic.twitter.com/rkSihdifdG
— LARIATOOOOO!!! (@SenorLARIATO) March 30, 2015
AND HERE COMES SETH ROLLINS. He cashes in, and the referee takes his damn time making this official. One Curbstomp to Lesnar. Lesnar counters another into an F5! But here's Reigns with a Spear! And here's Rollins with a Curbstomp to Reigns! We have a new champion!
#WrestleMania pic.twitter.com/RmZrSylKnu

— LARIATOOOOO!!! (@SenorLARIATO) March 30, 2015
#WrestleMania pic.twitter.com/Xx19sQr3nF
— LARIATOOOOO!!! (@SenorLARIATO) March 30, 2015
Follow @MMAHotSauce on Twitter and Facebook
Follow the author on Twitter: @ItsMikeFagan